This is a new feature I've thought up. A Favorite Authors Week is likely to be declared at any time, with or without waring. During that week I'll post as often as possible (I make no promises) on a favorite author--a new one each day.
These posts will not really be about the
author
per se--that is, they will not be biographical precis. You can find those on Wikipedia. Instead, I hope to examine what it is exactly about their writing which makes me count that particular author as a favorite. I'll also try to include some interesting and/or fun links.
You're free to join in the fun. You can either participate in one of my Favorite Author Weeks by posting about your own favorite, or you can even declare one of your own. In either case, I will link back to you if you comment and give the address of your post(s). I even made a graphic.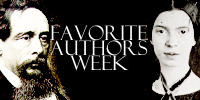 In addition, all Favorite Authors Week posts will be included in a new sidebar category.
So consider the first one begun!